By Chris Genovese
The calendar shows it only has 28 days, but I'd argue that February in general tends to feel like the LONGEST month of the year. There's a bit of a break in the monotony for the big game (the one that's so big it can't be mentioned by name LOL), and of course Valentine's Day, but outside of that it's a pretty bleak month with no sign of Spring in sight.
However I think there's a few reasons for bikers to be optimistic this month:
It sounds like the NY SLEEP Law that attorney Christina Gullo wrote about in December is perhaps not as harmful to individual riders as we originally thought it might be. According to SAN (SEMA Action Network), the new law that was passed in October is significantly different than the original draft of the bill. The new law does NOT change the state's existing exhaust noise laws.
For example, as originally drafted, the new law would have restricted exhaust noise to 60 dB and police cars would have been equipped with sound meters to help with enforcement. Fortunately for all, the decibel limit was removed before the law was signed, as it would have rendered nearly every vehicle on the road illegal! And we also learned that police cars across the state will NOT be equipped with sound meters. The new law does however give officers the discretion to write larger tickets than in the past (up to $1000) if the situation warrants.
We've yet to learn how this will play out at local dealerships and independent motorcycle shops, but we're guessing that it will be difficult/impossible to obtain an inspection sticker for '22 if you've removed the baffles out of your exhaust system or are running straight pipes. Don't be that guy or girl that shows up like that; expecting a "favor" from a local business this Spring!
Some medical experts are suggesting that the pandemic will end in 2022, as we transition into an endemic stage of COVID. That essentially means the mutated virus will still be present, but there will be broad immunity in the population as the result of both vaccines and infections, and the virus itself will continue to weaken and produce less severe illness. Hopefully that means we'll be far more "normal" in our daily lives and in the way that we deal with the virus moving forward from this Spring!
The supply chain challenges that we've lived with for almost 2 years now are slowly diminishing, and it's probably going to be a little easier to get parts for your motorcycle this year. Hopefully we've learned enough about the importance of domestic manufacturing, logistics, and inventory management to avoid landing in the same spot again in the future!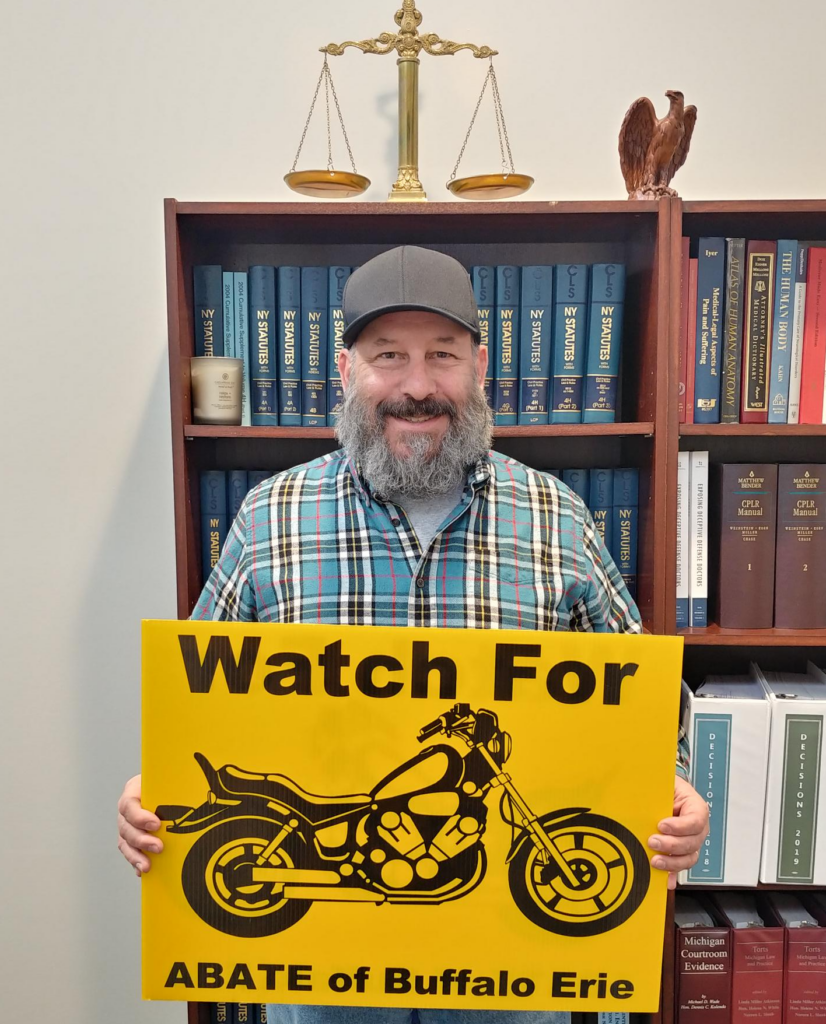 4. There's lots of new stuff to look at these days in local dealerships and shops. New model year bikes are now being delivered, and the independents and builders are using these wintry weeks and months to customize and create some very interesting motorcycles. After following some of these new model rollouts and custom builds on social media, I can't wait to see them roll up on bike nights! 
5. The classic yellow ABATE lawn signs will be available again this year in Western New York. I guess there was a shortage last year due in part to COVID chaos, and folks really missed our yellow biker safety signs. I'm told that will not be the case this year, and many of your favorite motorcycle shops will have them available for free pickup this Spring.