By: Steve Kantor
The Kantor Law Firm has been representing injured motorcyclists for over 15-years. As both lawyers and motorcycle riders we have a unique perspective on what causes motorcycle collisions. The most common cause is not what you would expect. While learning to operate a motorcycle, emphasis is placed on staying out of the blind spots of automobiles. As the smaller vehicle motorcycles can often be obscured from a car driver's view; and therefore, we play keep away from the blind spots.
In reality, the majority of The Kantor Law Firm's motorcycle accident cases involved collisions that occurred from a sudden left turn in front of a motorcycle. Imagine you are traveling down a two-lane road and the only traffic on the road is your motorcycle heading in one direction, and a car operating in the other direction. Suddenly, and without warning the cage makes a left turn right in front of you. Obviously, they did not observe you, and you are left with the results of their negligence.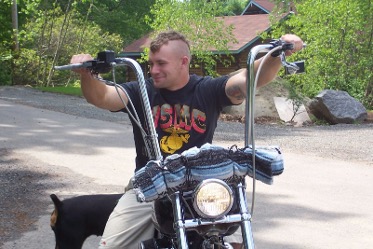 This year marks the 10th Anniversary the passing of Kade Edward O'Brien, who was tragically killed in a motorcycle accident in April of 2011. A United States Marine who survived two deployments in Fallujah, was killed during a leisurely ride on a country road by an inattentive driver who turned left in front of him. The Kantor Law Firm was proud to represent Kade's family and ensure that his son would be taken care of.
David (Creto) Sherry, was struck and killed while riding his motorcycle on July 11, 2014 in Guilderland, New York. Unfortunately, he was also the victim of an untimely left turn directly into the path of his motorcycle.
As a result of these tragic incidents and hundreds more, the New York State Legislature has attempted to pass the Creto/Kade's Law which would raise awareness of motorcycle fatalities caused by other motor vehicles, and bring about accountability for motorists taking the life a motorcyclist.
American Bikers Aimed Towards Education (ABATE), has supported Creto/Kade's Law for years, but the legislation needs your help to become a law. Bill Number: A05407 needs sponsors from the New York State Senate and Assembly. I urge you to contact your State Legislators to support this bill in memory of "Creto and Kade," and in advocating for your rights as a motorcyclist.
Even if this law hits the books, it will not ensure elimination of the sudden left turn. Therefore, when you are out on your bike, make sure you are aware when approaching intersections of the sudden left turn. Increased awareness will help prevent more tragedies.
The O'Brien family has also established a 501(C)(3) in Kade's memory called "The Kade Project." Please visit this website at www.thekadeproject.com for further information. The Kantor Law Firm has supported motorcycling and motorcycle safety. Unfortunately, collisions occur, and we appreciate your trust in our experience. If you have any questions, please do not hesitate to contact us at our toll-free number 1-877-SKANTOR (752-6867).