By: Chris Genovese
I hadn't ridden in over ten years, but in October of 2004 a buddy and I rented a couple of Harleys out in Las Vegas and rode through the Valley of Fire to the Hoover Dam. The green Fatboy I rode that day (aka "Elmore") was a loud beast with worn handlebar riser bushings, but also a much smoother ride than I had remembered, and so much damn fun to ride through the desert that day.
So when I got back home to Buffalo, Shredd began talking to me about the new '05 Softail Deluxe and sent me to American to talk to Joe VanDewater.
Joe was outstanding to me, and he gently guided my decisions. But of course, anybody that walked in to American Harley in those days was also destined to meet Paul Fedorsak. Paul made it his business to meet and talk to just about every rider that came through the door.
Paul was also busy selling a new Sportster to Steve Kantor at about that same time, and he introduced us. And soon I would be working with both American Harley and the Kantor Law Firm as new clients and co-sponsors of Shredd & Ragan Cruise Nights in the Falls.
At the time, I certainly didn't appreciate how my life would change as a result of these events. But now, with the advantage of time to reflect, I can see that I started living my "best life" when I bought that old FLSTNi and began riding and meeting and working with these new clients, friends and mentors.
Paul went to work for Steve shortly thereafter. Flyboy was built for that job, of course, and seemed to enjoy every moment of it. Through my own career moves I would continue to stay in touch with both Steve and Paul, later working with them again when I was at WGR-AM. And through all of those years that followed I'd continue to be ride and be friends with these gentlemen. My wife and I eventually purchased another Harley from Joe V. at American. I worked, golfed and rode (my snowboard) with Shredd many times. I continued to work with Paul and Steve on various advertising opportunities over the years.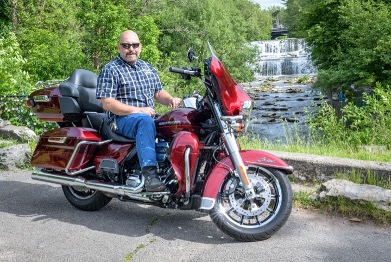 I would sometimes joke with Paul that, if he ever began thinking about retiring from Kantor Law, he should give me a "heads up." It was never a real possibility in my mind, but it was always fun to joke about it.
I was stunned when I got the text in March letting me know that Paul had suddenly passed away. It just seemed impossible, as Paul was ALWAYS so full of life and always enjoying it to the fullest. I regret that I never told him how much his friendship meant to me because we were always too busy joking around and laughing.
So I am writing this article, which is also a legacy of Paul's, to say, "Thanks Flyboy! I will always be grateful for your friendship and support. And I'm going to put that extra set of brake pads that you gave me on my new Springer so you'll always be riding along with me. I miss you, Bro!"
The friends and memories that motorcycling provides are priceless. Cherish every moment and please ride safely.