By Steve Kantor
You may have noticed an influx of lawyer advertising here in Western New York. It is hard to turn on televisions or radios without seeing and hearing advertisements for legal services. In fact, there are so many advertisements that it may be difficult to determine who is qualified to represent you should you need the help of a lawyer. We have all heard the Shakespearean quote "the first thing we do, let's kill all the lawyers!"
Historically, lawyer advertising was shunned. The way you selected a lawyer was based upon your legal needs and that lawyer's well-earned reputation. That all changed in June of 1977 when the U.S. Supreme Court handed down its decision in Bates v. The State Bar of Arizona. This case essentially struck down prohibitions against advertising by lawyers. Since then, we have been inundated with lawyers claiming to be "the best" So how do you determine what lawyer you should hire?
A good place to start is in researching that law firm's experience in handling claims specific to your legal needs. In olden times, one lawyer could do everything from real estate transactions to wills, to complicated products liability claims.  As the legal profession grew specialization became more prevalent; and therefore, it is now wise to choose a lawyer who spends most of his or her time litigating your needs. It is likely that a lawyer whose practice has a specific scope is up to date on the latest developments in that area of the law.  If you wanted your motorcycle repaired, you would not go to the marina to have the repairs done.  If you are involved in a motorcycle accident, you want to consult with an attorney who is experienced in successfully resolving motorcycle claims.
One way to research attorneys is to review their credentials. The internet, which is essentially a modern-day phone book is a great place to start.  Law firms should have information on their website indicating whether they claim to be experienced in all facets of the law or narrow their focus.  They will list their court admissions, memberships in legal associations and awards.  It is up to you to determine whether a lawyer who was recognized by the National Trial Lawyers, Super Lawyers or other legal organizations gives you the confidence to seek a consultation.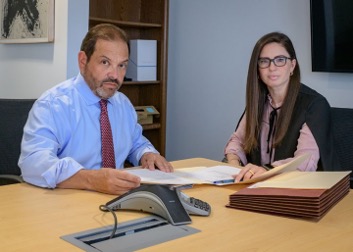 Although the world wide web is a great place to start, there is no substitution for meeting with candidates to discuss the specifics of your legal needs.  You should interview more than one attorney and determine whether or not they are knowledgeable regarding your unique case.  Many personal injury attorneys will tell you how successful they have been.  Past success does not guarantee future results.  Determining which lawyer will competently handle your case, how busy they are, and whether they understand that your accident occurred because of a bad choice by the person who caused the accident, will assist you in determining whether that attorney is the one who will hold those responsible for bad choices accountable.
Lawyer advertising will not be going away any time soon.  Do not be distracted by who claims to be the biggest or best.  Research and compare those who are focused on your particular legal needs, and are enthusiastic about advocating for your legal rights.