By Chris Genovese & Attorney Steve Kantor
They say, "It always rains at Laconia Bike Week," and that certainly proved to be true for us. Riding there through two days of somewhat steady and sometimes heavy rain was quite the adventure. Having challenges with your gear in those conditions on strange roads and getting lost at the same time while almost running out of gas has been vigorously crossed off the ol' bucket list!
It was great to run into some of our friends from Buffalo among the sea of strangers. Within five minutes of our first trip walking down to "the Weirs," we saw Adam from A+ Performance Cycle and his crew. The next day we ran into Kevin who we've met at bike nights and given a few trophies to. Sorry we missed you guys, Al and John a.k.a. the Flying Ewok!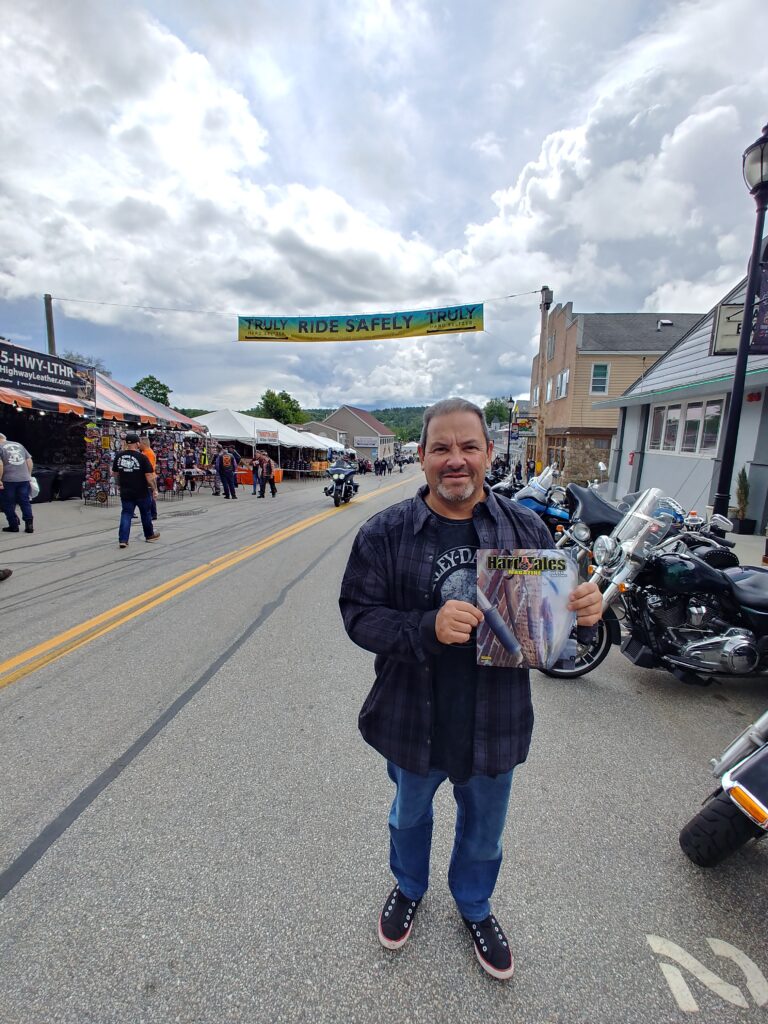 We were only there for a few days, so we couldn't fit in everything that we wanted to do. We did get to see the vintage races at New Hampshire Speedway and the Harley / H.O.G. display and bikes, as well as those of BMW, Indian, Yamaha, & CF Moto. Laconia Harley had a big crowd and was selling bikes one after the other, and that was right next to the Hart's Turkey Farm Restaurant, where it's always Thanksgiving. We had lobster rolls and some local brews. Dinosaur BBQ in Syracuse on the way out to Laconia was fantastic. We had great dry roads on the way back to Buffalo, so we really enjoyed the scenery and experience riding through NH and VT. Gratefully, we also got home in Buffalo about a half hour before it started raining again.
The very best part of the whole thing, of course, was the variety of people. Just about every "stranger" that we crossed paths with was ready to strike up a conversation, and folks came from far and wide. We met MC members and builders and outrageous Boston sports fans that were actually very funny. To their great credit, the locals were all extremely hospitable and helpful, and they seemed happy to be hosting a whole lot of bikers. Our hotel was very close to Weirs Beach itself, so bikes were riding right by us as they left the event area. That created the perfect spot to see folks rolling on the throttle as they took off out of town. We also saw lots of stunting, and though the KGLF never condones that kind of riding by amateurs, we were able to enjoy the show because (gratefully) we did NOT see anybody get hurt. (Please, do not attempt to do any stunts unless you are trained or training as a professional rider on a closed course!)